Louisville Regional breakdown
Originally Published:
March 20, 2014
espnW.com
The Louisville Regional is stacked with talent and is arguably one of the most competitive in this year's tournament. Both top-seeded Tennessee and second-seeded West Virginia hope to find their way to the Sweet 16. Of course, No. 3 seed Louisville also has its sights set on the regional semifinals, which the Cardinals will host. All three teams are ranked among the top seven in the most recent Associated Press top 25. And we haven't even mentioned fourth-seeded Maryland and its All-American, Alyssa Thomas.
Three observations
Which team will reach Nashville?
Which team did espnW.com's staff of writers and columnists pick to advance out of the Louisville Regional?
| Staffer | Pick |
| --- | --- |
| Charlie Creme | |
| Kate Fagan | |
| Graham Hays | |
| Michelle Smith | |
| Mechelle Voepel | |
1. Last year, LSU came alive in the NCAA tournament with two games at home. The sixth-seeded Lady Tigers survived a tough game against Green Bay and then upset No. 3 Penn State, advancing to the Sweet 16. This year LSU is the No. 7 seed and is playing at home in Baton Rouge again, opening with what should be a very tough game against No. 10 seed Georgia Tech (ESPN2, 12:30 p.m. ET Sunday). Then LSU might play No. 2 seed West Virginia. Could this year end up having the same kind of early-round magic for LSU? The Lady Tigers defeated Tennessee this season.
2. How much noise could Texas make in this tournament? Maybe a lot. The Longhorns finished tied for third in the Big 12 and were overshadowed in the league this season. But the program appears to be on an upward swing, and could contend for the Big 12 title next season. Thus, this NCAA tournament could be a big springboard for the Longhorns, who are a No. 5 seed. What if they face No. 4 Maryland in the second round? Yes, the game would be on the Terps' home court, but Texas has the size and speed to potentially bother Maryland defensively.
3. What team from the Big Ten has the longest active streak of NCAA tournament appearances? You may be surprised, but it's Iowa, which is playing in the Big Dance for the seventh consecutive year and is the No. 6 seed. The Hawkeyes tied for fourth in the Big Ten, and had won 12 of their last 14 before falling to Nebraska in a competitive league tournament final. Iowa is an early-round host; if the Hawkeyes get past Marist (ESPN2, 8 p.m. ET Sunday), they could face last year's NCAA giant killer -- Louisville -- in the second round. -- Mechelle Voepel
Three players to watch
[+] Enlarge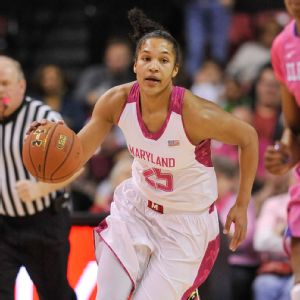 AP Photo/Gail BurtonMaryland senior Alyssa Thomas is a three-time ACC Player of the Year.
Bria Holmes, West Virginia: For much of the Big 12 tournament final between West Virginia and Baylor, Holmes -- not Odyssey Sims -- looked like the unstoppable scorer. That's not the role she is asked to play on a game-to-game basis for the Mountaineers, but it's nice to know it's there. Although the sophomore is West Virginia's leading scorer, she doesn't take the most shots on the team, the former a reflection of both her efficiency (48 percent overall) and her 3-point range. A 6-foot-1 perimeter player, she's a difficult matchup for most defenses. And you don't play for Mike Carey if you don't play defense. Holmes' long reach makes her one of the team's best at creating turnovers.
Asia Taylor, Louisville: It is hard to take your eyes off Shoni Schimmel when Louisville plays, but defenses and fans alike should spare some attention for Taylor. Unavailable last season because of injury and a role player before that, she is a key reason the Cardinals might once again have a long run in them. Without a natural center in the primary playing rotation, her long arms and athleticism make her the embodiment of what the Cardinals try to do with quickness and aggressiveness instead of size. On offense, she is a good passer and has the range to pull bigger defenders away from the block and then get to the free throw line.
Alyssa Thomas, Maryland: Seriously, we should enjoy her while we still can because one of the better college careers in recent memory will come to a close at some point in the next couple of weeks. Thomas could tie Suzie McConnell-Serio's NCAA career record with one more triple-double, a remarkable feat for a player who is ostensibly a forward. A healthier Maryland roster afforded her a little more rest this season than her Ironwoman effort a season ago, but her role is hardly less influential. She leads the Terrapins in points, rebounds, assists and steals (she actually has more rebounds than any two teammates combined), shoots 50 percent from the field and 80 percent from the line. -- Graham Hays
Best first-round game
(6) Iowa vs. (11) Marist (ESPN2, 8 p.m. ET Sunday: The seeds might not suggest a tight game in Iowa City and the Hawkeyes certainly have the home-court advantage, but this is going to be a good one between two teams that have never before faced off.
The Red Foxes are a hot team with 16 wins in their last 17 games heading into the tournament. Marist has five players averaging double figures, loves to shoot from beyond the arc (four players have hit at least 30 3-pointers this season), and opponents are averaging less than 60 points a game against them.
That will be an interesting match for the highest-scoring team in the Big Ten this season. Iowa, which reached the championship game of the Big Ten tournament before falling to Nebraska in the final, averages 78.6 points a game, shooting a league-best 46.1 percent from the floor. Five Hawkeyes average double-figure scoring. -- Michelle Smith
Upset alert
An upset might be more likely on a neutral court, but 11th-seeded Marist is a team that can score with No. 6 seed Iowa at Carver-Hawkeye Arena. Senior Emma O'Connor makes 44.2 percent of her 3-point attempts for the Red Foxes, but that's only good for second on the team as Madeline Blais knocks down 48 percent from deep. Other than 6-foot-4 Bethany Doolittle, the Hawkeyes don't have the size to take advantage of Marist. -- Charlie Creme
Team with the most to prove
After a 21-point thumping at Duke on Feb. 17, Maryland fell out of the national consciousness, then stumbled even further by losing its first ACC tournament game to North Carolina. A team considered a Final Four contender with one of the country's best players in Alyssa Thomas hasn't done anything at all significant since beating Syracuse handily at the Carrier Dome on Groundhog Day. Maryland has two home games, a manageable draw that would include a beatable No. 1 seed in Tennessee should the two meet in the Sweet 16, and a do-everything star in Thomas, playing for her college career with each game. -- Charlie Creme
Matchup we'd most like to see
(5) Texas vs. (4) Maryland in the second round: Will this be a basketball game or a scrum on the glass? This is a potential matchup of the third- (Maryland) and fifth-best (Texas) rebounding teams in the nation. So it would be strength against strength. Thomas is a double-double machine, but the Longhorns' Nneka Enemkpali isn't far behind. Maryland's ability to keep the 6-1 junior from the offensive glass will be the key to the Terps' advancing. Rebounding battles are not always the most aesthetically pleasing affairs, but this one could be intriguing. -- Charlie Creme
NCAA CHAMPIONSHIP GAME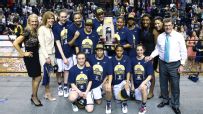 UConn beat Notre Dame 79-58 to cap a 40-0 season to win it second consecutive NCAA title and record ninth championship overall.
ANALYSIS
VIDEO
TOURNEY 411
MORE WOMEN'S BASKETBALL HEADLINES
MOST SENT STORIES ON ESPN.COM