espnW's NCAA title game picks
Originally Published:
April 7, 2014
espnW.com
Before the national championship tips off Tuesday (ESPN and WatchESPN, 8:30 p.m. ET), we predict the winner and look at what might be the X factor in the matchup between top seeds Connecticut (39-0) and Notre Dame (37-0). Will the Huskies cap their fifth unbeaten season and win a record ninth NCAA title, or will the Fighting Irish clinch their first perfect season and second NCAA crown?
NATIONAL CHAMPIONSHIP GAME PICKS
No. 1 seed Notre Dame (37-0) vs. No. 1 seed Connecticut (39-0)
ESPN/WatchESPN: 8:30 p.m. ET, Tuesday
| Writer | Analysis | Pick |
| --- | --- | --- |
| Charlie Creme | Part of what makes Connecticut's defense so formidable is its versatility. Despite a rotation that is only six players deep, Geno Auriemma and his staff can move around the pieces to create different matchups. Whether it's taking away the 3-point shot, protecting the basket or cutting off penetration, Connecticut can do it. Notre Dame found little resistance from a Maryland defense that lacked mobility on the interior and the ability to contend with screens on the perimeter. The Huskies will cut off a number of those same shot opportunities and ultimately wear down Notre Dame as they have 39 other opponents this season. | |
| Graham Hays | The two teams played eight times in the two seasons preceding this one and were separated by just 13 points (in Notre Dame's favor). So even without Natalie Achonwa, and even with a lot of hype about the records, there is reason to think meaningful basketball will be played in the final 10 minutes. Why pick Connecticut in that case? Achonwa's absence is part of it, despite how well Taya Reimer and Markisha Wright played against Maryland and the rebounding clinic the Fighting Irish put on in that semifinal. The other part is defense. Notre Dame has the best offense in college basketball this season. Connecticut has a historically great defense. | |
| Michelle Smith | Although the Irish were able to play well without Natalie Achonwa on Sunday, they definitely will be hurt by her absence against the Huskies' big front line. With starters Stefanie Dolson and Breanna Stewart, and Kiah Stokes off the bench, Connecticut will dominate the paint and be able to focus its defensive attention on stopping Kayla McBride and Jewell Loyd. The slight difference between these two teams -- this should be the closest game UConn has played all season -- is defense, and Connecticut is simply better at it. McBride likely won't be able to repeat her outstanding effort (28 points) against Maryland, and the Huskies will have too much offensive firepower inside for Notre Dame to be able to keep pace. | |
| Mechelle Voepel | The Huskies haven't necessarily been their best throughout this NCAA tournament -- but that's a lot like saying a bayonet isn't razor-sharp. It's still a dangerous weapon. In the case of this Huskies team, there are several such weapons. Without Natalie Achonwa, the Irish have an experience deficit inside that they covered up extremely well against Maryland in the semifinals but will struggle to do the same against UConn. The Huskies' length and versatility inside force teams to try to beat them more from the outside, and admittedly that is a huge strength of the Irish with guards Kayla McBride and Jewell Loyd. But the Huskies' backcourt of Bria Hartley and Moriah Jefferson is exceptional too. Not to mention that UConn's bigs do a good job helping on the perimeter. Ultimately, this is a great Notre Dame team meeting a greater UConn team. | |
NCAA CHAMPIONSHIP GAME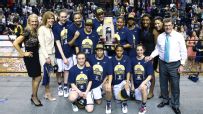 UConn beat Notre Dame 79-58 to cap a 40-0 season to win it second consecutive NCAA title and record ninth championship overall.
ANALYSIS
VIDEO
TOURNEY 411
MORE WOMEN'S BASKETBALL HEADLINES
MOST SENT STORIES ON ESPN.COM
STORIES FROM HUFFINGTON POST